Our Services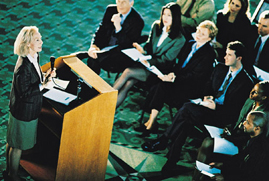 Your first great experience with Audio Video U.S.A will be when you call and get a live person. Unlike vast impersonal companies, we answer the phone with a live person and will take the time with you to discuss your audio-visual equipment requirements and work with you to remain within your budget. We will also do site inspections where needed to finalize your requirements.
We go the extra mile to give you service beyond normal expectations and provide a full range of projectors, screens, plasma screens, sound systems and microphones, lighting, translation equipment, video and audio recording, webcast service, satellite receipt and more. We cover all of Southern California from San Diego to Santa Barbara. We additionally have an office in San Francisco and we will travel for your larger meetings.
Our specialties include:
Conventions:
We provide full A/V equipment and technicians – our recent record for break-out rooms at one convention is 17!
Webcasts:
We furnish all equipment and technicians needed for both broadcast and receipt sites for webcasts of any size.
Satellite broadcasts:
We provide all equipment and technicians required for receipt of satellite broadcasts, including satellite receivers if required. We can provide support services for satellite transmissions.
Dinner meetings:
Here we bring whatever you need: microphones, screens, projectors, laptops for Powerpoint presentations, sound systems, conference phones and technicians who arrive early to ensure all is set up and just how you or your client want it. This includes webcasts too.
Lighting:
We provide a full range of stage and effect lighting for your event, including stage wash lighting, uplights, spotlights and follow spots. We also provide programmable colored LED lighting for your after-event social functions.
Translation equipment services:
If your event or meeting needs to be simultaneously translated into one or more languages, we have infra-red transmitters and wireless headset receivers for your translators and your audience.
Audio and Video recordings:
For lectures, demonstrations, special events we can handle this.
Teleconferencing:
This may be as simple as a conference phone or audio/telephone interfacing.
Courtroom audio-visual equipment:
For courtrooms, we usually supply an Elmo document camera, an LCD projector and a screen. There is a complementary audio-visual cart and a DVD player if the LCD projector is required. We are punctual.
Audio Video USA's Los Angeles area office also services Woodland Hills, the San Fernando Valley, LAX airport area and Orange County. In our Los Angeles, San Francisco and San Diego offices we take pride in handling your projector rental, microphones, speakers, webcasts and conventions flawlessly. For rental quotes and to place an order, call Audio Video USA at 1-866-LCD-RENT (866-523-7368) today 9:00 a.m. to 7:00 p.m. (Pacific Standard Time) 7 days a week.
We Find Exactly What You Need!