About Us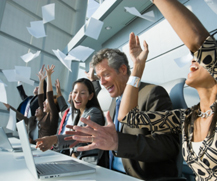 AUDIO VIDEO USA – An audio-visual equipment rental company that gets your event done efficiently with personal, great service.
Audio Video USA is a family-owned and run full-service audio-visual company. We have been providing exceptional service to corporate clients in Southern California for the last 7 years. We are large enough to handle any of your needs – from a small dinner meeting with a Powerpoint presentation up to a multiple-day convention with General Session and Breakout Rooms. However we are not a vast impersonal company and we pay personal attention to all your requirements. When you need help we are there for you – and when you call within business hours 7 days a week you get a live person – not an answering machine! We go the extra mile to give you service beyond normal expectations.
We provide a full range of projectors, screens, plasma screens, sound systems and microphones, lighting, laptops, translation equipment, video and audio recording, webcast service and more. We cover all of Southern California from San Diego to Santa Barbara. We also have an office in San Francisco and for your larger meetings we will travel to your venue.
We Find Exactly What You Need!
We are familiar with almost all the hotels, restaurants and event venues in Southern California. Unlike other States, in California you are free to bring in your own Audio-Visual company at any venue, and our competitive prices offer you an average savings of 50% or more over the in-house pricing. Our prices are more within your budget than what hotels charge, and you will find our service and trustworthiness beyond normal expectations.
We are members of the Southern California Chapter of Meeting Professionals International. Our clients include the Los Angeles County Bar Association, Cal State University Northridge, USC Annenberg School of Journalism, Ogilvy Mather, Ameriprise Financial, CVS Pharmacy, Dwell Publications, Fleming's Steakhouses, Muscular Dystrophy Association, Maggiano's Restaurants, Fox Interactive Media, Kaiser Permanente, Los Angeles Urban League, LA County Museum of Contemporary Art (MOCA), Rotary Club of Los Angeles, Your Great Event and Warner Brothers Studios.
Try us and you will see why so many businesses rely on us. Our Los Angeles area office also services Woodland Hills, the San Fernando Valley and Orange County. In our Los Angeles, San Francisco and San Diego offices we take pride in handling your projector rental, microphones, speakers, webcasts and conventions flawlessly. For rental quotes and to place an order, call Audio Video USA at 1-866-LCD-RENT (866-523-7368) today 9:00 a.m. to 7:00 p.m. (Pacific Standard Time) 7 days a week.
You guys represent to me excellence, dependability, affordability, flexibility and the personal touch. You take the time to understand my event, then provide service above and beyond what I ask."


Debbie Hawkins
Executive Director
Meeting Professionals International, Southern California Chapter